4 DAYS PERMACULTURE SEMINAR : water management & planning
26/10 à 9 h 00 min

>

29/10 à 17 h 30 min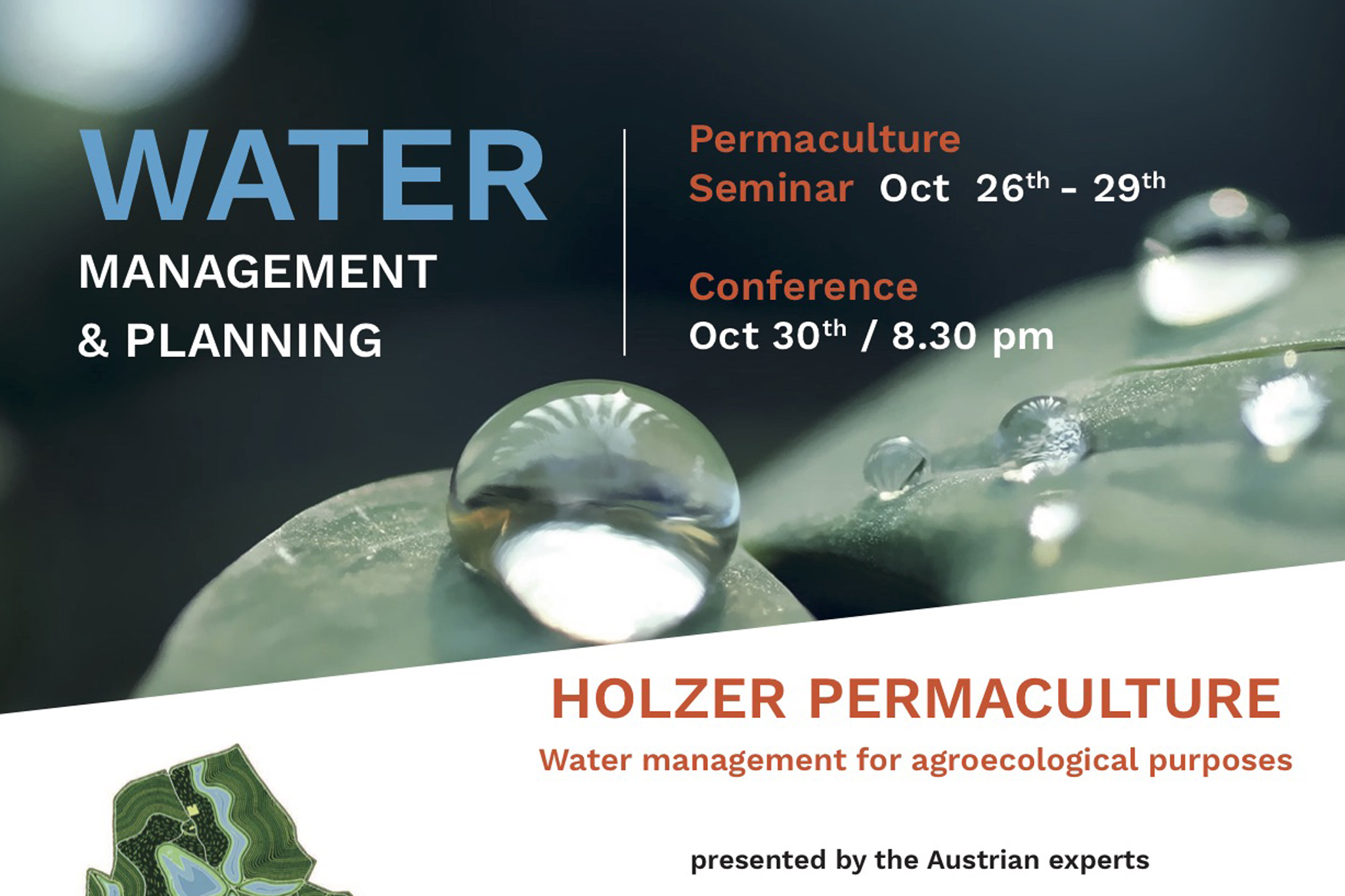 Program
Day 1: Thursday 26th of October
Introduction to "Holzer Permaculture" principles and philosophy
General introduction course to "Holzer Permaculture" principles and philosophy

 Discussion of key practices of "Holzer Permaculture" with a strong focus on sustainable water management using actual project examples

Visit of the farm with field observations and subsequent analysis and interpretation
Day 2: Friday 27th of October
How to tap spring water
Introduction to "ecological planning" principles dealing with natural parameters such as water, topography, (hydro-) geology, climate, soil, fauna and flora

 Key principles of  water retention with emphasis on spring water tapping and pond building using natural materials

Designing and building a scale model of a selected area of the farm in small groups using the above principles of "ecological planning"Group discussion of the various project designs

Starting to tap a spring on site
Day 3: Saturday 28th of October
How to build ponds and lakes using natural materials
Designing and planning a pond made of natural materials available on site Basic principles and strategies of surveying, planning and earthworks for sustainable water management
Building a working model pond on site
Follow up on the construction work of the spring tapping
Day 4: Sunday 29th of October
How tomanage and use water landscapes efficiently and sustainably
 Elaboration on sustainable water design and management of aquatic system

 Introduction to extensive aquaculture

 Discussion of the possibilities and passive irrigation

 Advantages of increased biodiversity following meaningful water management

Follow up on the construction work of the spring tapping and pond building
 Instructors 
Farmer and international consultant 
Instructor for the topics of permaculture, animal husbandry, agroforestry, aquaculture, arable farming, soil and water management.
Josef took over the alpine family farm "Krameterhof" from his father Sepp Holzer in 2009 and has been responsible for the farm's advancement since then. He develops innovative permaculture solutions, which are being realised on his farm. Furthermore, he leads excursions, seminars and 1-year permaculture-courses. He is also busy with consultancy and developing concepts. He is the (co-) author of several books. 
Architectural designer & teacher
Instructor for the topics of permaculture, planning and water management
Jens studied architecture in South Africa and London. He manages and lives on a small farm in Southern Styria with his family. There he also runs his architecture office "Permatecture". Jens is an internationally experienced permaculture designer and teacher. 
Informations
From Thursday 26th to Sunday 29th of October 2017
9 AM – 5.30 PM
The seminar will take place at the farm of Froidefontaine located in the beautiful region of "Condroz" (1 hour drive South from Brussels).
Contact us to receive the list of accommodations in the surroundings
400€ per person for the 4 days  (limited number of participants).
EARLY BIRD DISCOUNT: 10% off on booking at least 10 weeks in advance. 
To register, please send us your contact details at the email address underneath and a bank transfer of 100€ on our IBAN account. The balance must be paid at least 15 days before the seminar. 
Fermes pleines de vies asbl
1, Froidefontaine, B-5370 Havelange
IBAN: BE94 0018 0678 1614